https://playtubescript.com/watch/5tfbLTOFIKckRly
Donald Trump is likely to return home and say he has had a great trip to Asia.
There are some in the region who may agree that it has been of massive benefit, but not necessarily to America.
The US president has certainly been treated like a king everywhere he has gone, and it is obvious that he loves being feted and flattered - perhaps especially now, given all the criticism back home.
In a foreign land, it is clear that if you treat him like royalty, he will behave like a polite guest. Boost his ego and he will not talk about nasty uncomfortable things like human rights and democracy.
Of course, we know that it does not take much for the statesmanlike conduct to fall away if the bear is poked.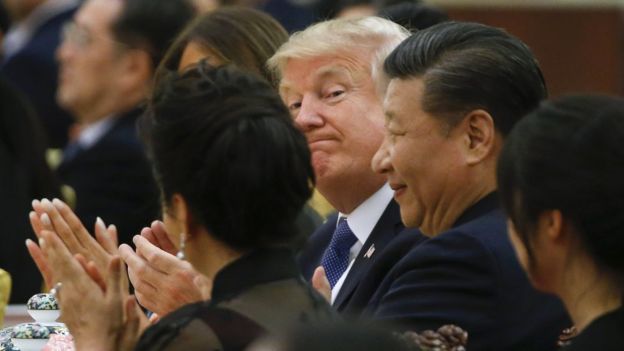 When North Korea taunted the US president, calling him again, as it has done in the past, a dotard, he could not help but react, suggesting Kim Jong-un was "short and fat".
It may just be that the other leaders of this region are immaculate hosts, but there has been a strong sense during his trip that they have worked out not only how to avoid provoking him, but precisely how to disarm him: through flattery.
Japanese Prime Minister Shinzo Abe said Donald Trump was his "favourite guy" to play golf with.
South Korea's President Moon told the US president he was "already making America great", and at the National Assembly in Seoul he was introduced as "leader of the world".
One-way traffic
But after the splendour of his welcomes, he stood next to the Vietnamese president and did not talk about freedom of speech and the imprisonment of activists and bloggers.
In Beijing, he stood next to President Xi Jinping without a single word of criticism.
But his visit to China stands out to me as the most telling leg of this trip. It was the one place where things went a little differently for Mr Trump.
Yes, there was an extraordinary welcome laid on for him, and pomp and ceremony that rivalled - even outdid - anywhere else.
But it was not President Xi with gushing compliments about his guest, but the other way around.